The Dave Stone Trio Is ›
Dave Stone: reeds
Kyle Honeycutt: drums
Bob DeBoo: bass

About ›
Six-time winners of the Riverfront Times' Reader's Music Poll for 'Best Jazz Artist', the Dave Stone Trio has been a fixture on the St. Louis jazz scene since 1995, including a current weekly residency that's an unheard-of 21 years and running at Mangia Italiano. An extraordinary thank you goes out to Jeff, Paul, Dave, Russell, Landis, Collier, Jim, Jon, and any other past/current Mangia ownership/management we've left out!

The DST plays primarily post/hard/bop, Great American Songbook standards, and some free-form music and originals. We are heavily influenced by the music of John Coltrane, Wayne Shorter, Ornette Coleman, and many others.
Listen ›
A 3-song performance from April 2014, in-studio at the eclectic, amazing, and independent radio station KDHX.
Look ›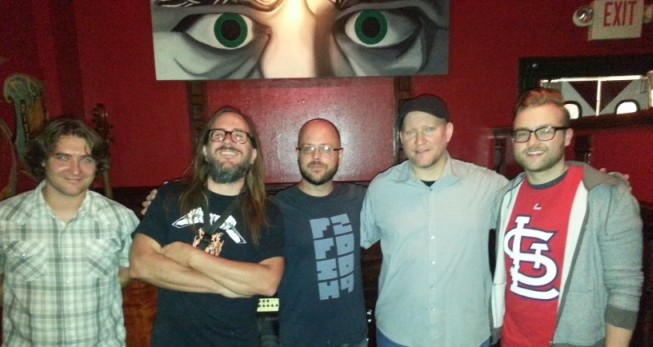 Tim Fischer, Dave Stone, Bob DeBoo, Kyle Honeycutt, Stephen Martin.

Stephen's last Mangia in town (Jul 18 2014), he's moving to Kansas City. Best wishes, and enormous thanks for enhancing the DST this last year or two with your fantastic musicianship!

Welcome Tim Fischer! Tim is a wonderful guitarist from the L.A. area, he recently moved to STL. Tim has been sitting in with the DST often, we're always thrilled when he comes out and makes music with us.

Photo gallery link coming soon!